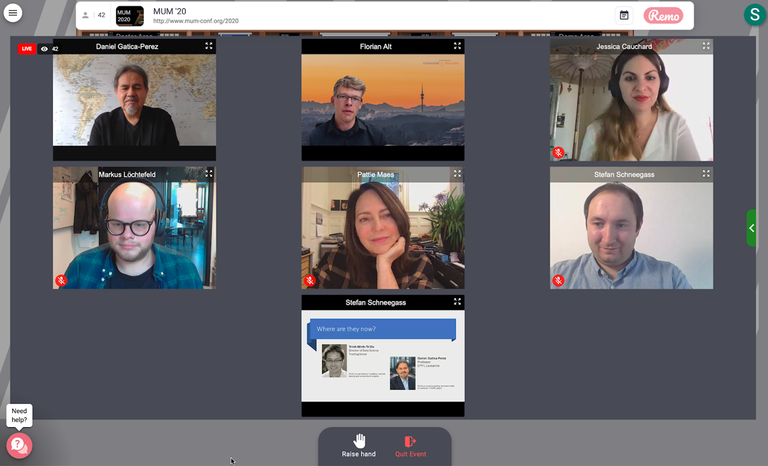 Contributions to MUM 2020
25 November 2020
Our group made several contributions to this year's MUM conference.
Presentations
PIANX: In this paper, Yara Fanger presented work from her Bachelor thesis where she built a platform to assist piano players in alleviating Music Performance Anxiety using Mixed Reality.
Privacy Perceptions of Smart Home Visitors: Together with Karola Marky from the TU Darmstadt we investigated how the information needs of visitors of smart homes and how they wish their privacy to be protected.
During the opening ceremony, Prof. Florian Alt in his role as steering committee chair of the conference series awarded the 10 Years Impact Award.
Papers
| | |
| --- | --- |
| | Mariam Hassib, Hatem Abdelmoteleb and Mohamed Khamis. Are My Apps Peeking? Comparing Nudging Mechanisms to Raise Awareness of Access to Mobile Front-Facing Camera. In 19th International Conference on Mobile and Ubiquitous Multimedia. MUM 2020. Association for Computing Machinery, New York, NY, USA. [Download Bibtex] |
| | Alexandra Voit, Dominik Weber, Yomna Abdelrahman, Marie Salm, Paweł W. Woundefinedniak, Katrin Wolf, Stefan Schneegass and Niels Henze. Exploring Non-Urgent Smart Home Notifications Using a Smart Plant System. In 19th International Conference on Mobile and Ubiquitous Multimedia. MUM 2020. Association for Computing Machinery, New York, NY, USA. [Download Bibtex] |
| | Karola Marky, Sarah Prange, Florian Krell, Max Mühlhäuser and Florian Alt. 'You just can't know about everything': Privacy Perceptions of Smart Home Visitors. In Proceedings of the 19th International Conference on Mobile and Ubiquitous Multimedia. MUM'20. ACM, New York, NY, USA. [Download Bibtex] |
| | Yara Fanger AND Ken Pfeuffer AND Udo Helmbrecht and Florian Alt. PIANX - A Platform for Piano Players to Alleviate Music Performance Anxiety Using Mixed Reality. In Proceedings of the 19th International Conference on Mobile and Ubiquitous Multimedia. MUM'20. ACM, New York, NY, USA. [Download Bibtex] |