Presenting our Work at CHI 2018
28 April 2018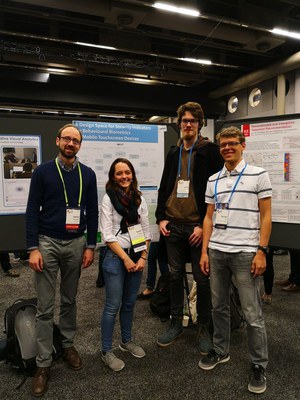 From Saturday, 21st April to Thursday, 26th April 2018 our group visited Montreal, Canada to attend CHI18 and present our work.
Members of our group presented a total of 6 Papers/Posters at the venue. We would like to mention in particular "A Design Space for Security Indicators for Behavioural Biometrics on Mobile Touchscreen Devices" and "ResearchIME: A Mobile Keyboard Application for Studying Free Typing Behaviour in the Wild" being biometrics related.
Furthermore, we would like to showcase "Which one is me? Identifying Oneself on Public Displays" winning an Honorable Mention.
| | |
| --- | --- |
| | Lukas Mecke, Sarah Prange, Daniel Buschek und Florian Alt. A Design Space for Security Indicators for Behavioural Biometrics on Mobile Touchscreen Devices. In Extended Abstracts of the 2018 CHI Conference on Human Factors in Computing Systems. CHI EA '18. ACM, New York, NY, USA. [Download Bibtex] |
| | Daniel Buschek, Benjamin Bisinger und Florian Alt. ResearchIME: A Mobile Keyboard Application for Studying Free Typing Behaviour in the Wild. In Proceedings of the 2018 CHI Conference on Human Factors in Computing Systems. CHI '18. ACM, New York, NY, USA. [Download Bibtex] |
| | Mohamed Khamis, Christian Becker, Andreas Bulling und Florian Alt. Which One is Me?: Identifying Oneself on Public Displays. In Proceedings of the 2018 CHI Conference on Human Factors in Computing Systems. CHI '18. ACM, New York, NY, USA. [Download Bibtex] |