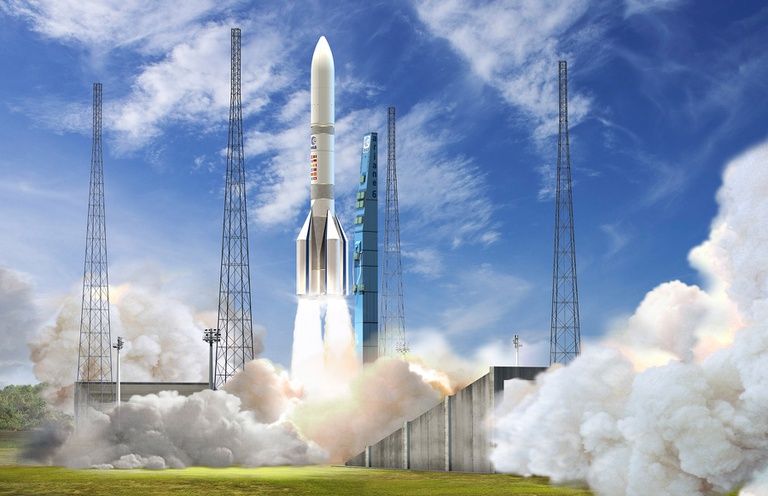 Material compatibility with liquid oxygen
14 February 2023
Development of an innovative modular LOX test rig to investigate the reaction mechanism and external influences of composite materials in liquid oxygen at the Professorship of Composite Materials and Technical Mechanics of Prof. Dr.-Ing. Tobias Dickhut for the German Federal Ministry for Economic Affairs and Climate Action. Prof. Dickhut will advance the development of a test rig for material compatibility in liquid oxygen for space applications within the national space program project "MODULOX - Modular LOX Test Rig".
An article by Philipp Marin, MSc and Prof. Dr.-Ing. Tobias Dickhut
Experts consider making the upper stage of the rocket more performant by reducing its weight. In order to improve rockets such as the Ariane 6, the metallic cryogenic oxygen and hydrogen tanks are to be made of fiber-plastic composites, or more precisely carbon-fiber-reinforced plastic (CFRP). It is essential to know and evaluate the compatibility of liquid oxygen with CFRP. The modular test rig will make a major contribution to this and will be able to describe and explain the mechanisms between liquid oxygen (-183 °C or 90 K) and CFRP.
As part of the project, a new liquid oxygen (LOX) test rig will be set up at the University of the Bundeswehr Munich to identify the predominant influencing parameters on the LOX compatibility of carbon fiber reinforced plastics (CFRP) materials based on the specified standard. The procedures of LOX compatibility tests are defined in the ASTM G86 standard. However, yet unknown influencing parameters and reaction mechanisms are responsible for strongly deviating results of the tests. Although the procedure is precisely defined, the test conditions are not. The aim is to set up a test rig that records possible environmental influences and influencing parameters on the reaction process and thus enables an extended understanding of the test process and reactions of the CFRP material with LOX. This should enable reproducible test sequences to be defined in the future in order to approve CFRP materials for use in LOX tank systems for space travel.
The new design of the LOX test rig will be modular and equipped with extensive measurement technology to increase the understanding of the reaction process of a CFRP sample in liquid oxygen. At the same time, the test rig will be used to investigate the effects of external conditions. In this way, comparable and reproducible test parameters can be created in the long term.
---
Image: © ESA – D. Ducros