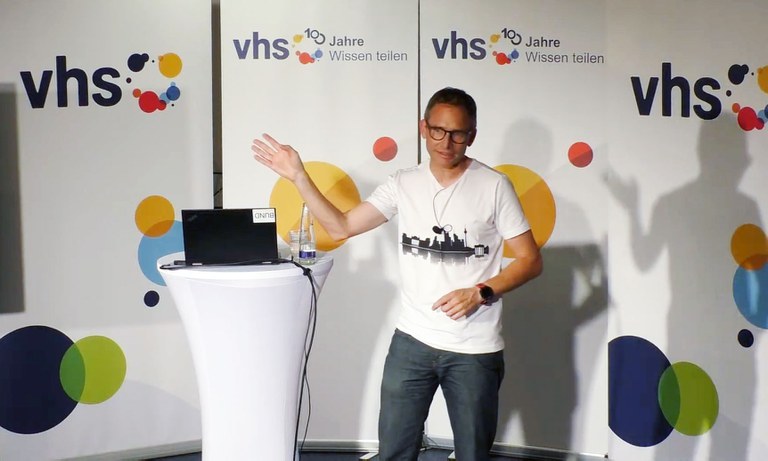 "Satellites don't fly - they're in free fall!"
25 July 2022
Prof. Förstner, spokesman of RC SPACE, gave a lecture as part of the "Aufwind" series of the Volkshochschule Vaterstetten e. V. in July.
Is it possible to see ship routes from space? Why does the stock market depend on data from space? How can satellites help to make climate change visible and how can space travel become more ecofriendly? Prof. Förstner vividly provided answers to these and other questions in a guest lecture at the community college Vaterstetten in the lecture "Space Race – Current Research" and explained what important and relevant information space travel can provide and which conclusions can be derived from it. For example, many areas of our everyday lives depend on data from space - such as a functioning infrastructure, banking, logistics, telecommunications and navigation - but climate change can also be made tangible and visible with the help of measurements and images from space.
Prof. Förstner also provided insights into current missions and topics in space research, which is taking place worldwide and at RC SPACE. He also presented the dtec.bw-funded SeRANIS project at UniBw M, a dedicated satellite mission of the researchers. Among other things, he explained to the attendees on site and to the viewers who followed the livestream from home which different entities and disciplines are involved in a satellite mission and how complex their interaction is.
---
You can watch the complete recording of the livestream with many exciting answers to questions about space and space travel on the YouTube channel of the VHS Vaterstetten (please note that the lecture was held in German).
---
Image: Prof. Förstner during the lecture (© Volkshochschule Vaterstetten e. V.)