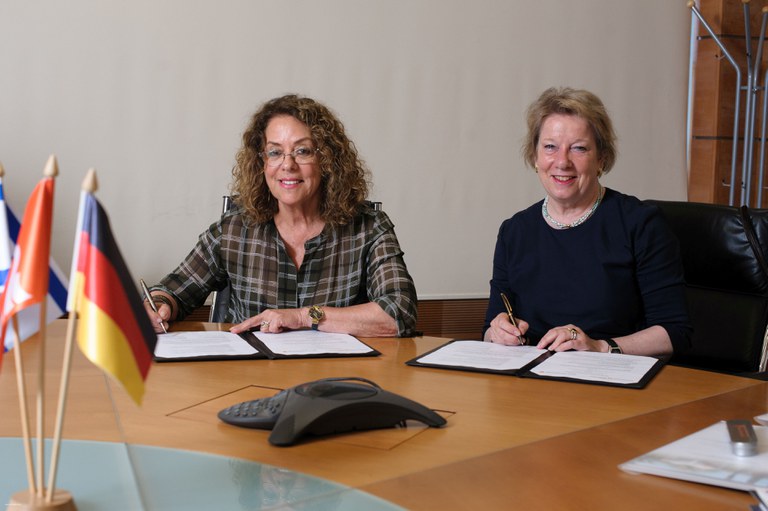 President Travelling Abroad in Israel
26 January 2018
06 July 2017: Prof. Merith Niehuss visited several leading universities and research facilities during her four-day trip in Israel. She was accompanied by Norbert Gebbeken, professor of Structural Engineering Statics, and by the Director of the International Office, Dr. Alexandra Bettag.
The first stop during the trip was the Ben-Gurion University of the Negev in Beer Sheva. During a meeting with the President Prof. Rivka Carmi both universities signed a "Memorandum of Understanding". The memorandum was the outcome of a cooperation between Prof. Gebbeken and various institutes and professors at the Ben-Gurion University in the area of research of protective structures, a cooperation that has been ongoing for the past several years. Furthermore on the same day more meetings with representatives of the Departments of Psychology, General History and Jewish History took place. The interdisciplinary "Conflict Management and Resolution Program" presented by Prof. Orna Braun-Lewensohn played a distinctive role on that occasion. A joint project together with the buddy program of the International Office was also a matter of discussion. A tour of the "Protective Technologies R&D Centers" at the Ben-Gurion University was on the agenda for the afternoon.
Visit to One of the Oldest Universities of Israel
On the next day a visit of the Technion Haifa (Israel Institute of Technology), one of the most renowned and oldest universities of Israel, was on the itinerary: In the Visitor's Center the delegation was provided a general overview of the history and the key research areas of the University followed by a visit to the Faculty of Civil and Environmental Engineering and to Prof. David Yankelevsky's laboratory as well as to the National Building Research Institute. The National Building Research Institute is headed by Prof. David Yankelevsky and offers consultancy services throughout all of Israel. On this occasion the delegation talked about potential joint research projects with Prof. Gebbeken in the field of protective building structures.