Designing Self-Propelled Agricultural Machines
Agricultural vehicles such as harvesters and other such machines are primarily designed and constructed for a specific purpose. To get to where they are needed to fulfill that purpose, however, they have to participate in road traffic, which they must be able to maneuver safely. The design focus was on improving the visibility of such driverless agricultural machines so that they can be seen even when not accompanied by a vehicle, especially in low light and at night, in order to reduce any potential danger to a minimum.
Based on field trials conducted on closed roads with curves and elevations, a design was developed which takes into account safety aspects as well as practical requirements.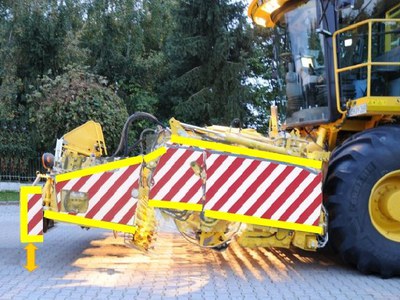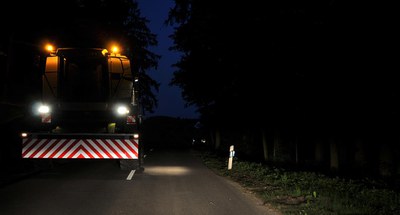 Red and white warning panels and reflective contour markings combined with a rotating light ensure visibility by day and by night. The red and white front panel indicates the width of the vehicle. Other drivers are familiar with it from its use on other vehicles (such as snow-clearing vehicles) and its light-reflective properties mean it can be seen from far away.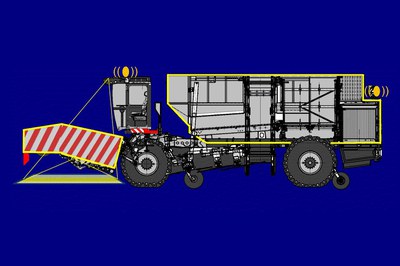 Contour markings on the side of the vehicle indicate its length, particularly for crossing traffic.