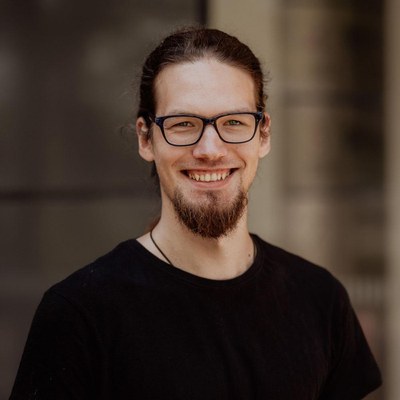 Professur für Usable Security und Privacy
Lukas Mecke M.Sc.
Lukas Mecke is part of the Usable Security and Privacy Group as a PhD student.
In his research he focuses on behavioural biometrics and their use in HCI. In particular he adapts interfaces to user behaviour and builds usable security concepts using biometrics. He also does projects in machine learning, computer vision and eye tracking.
Publications
2023
Lukas Mecke, Ismael Prieto Romero, Sarah Delgado Rodriguez and Florian Alt. Exploring the Use of Electromagnets to Influence Key Targeting on Physical Keyboards. In Extended Abstracts of the 2023 CHI Conference on Human Factors in Computing Systems. CHI EA '23. Association for Computing Machinery, New York, NY, USA. [Download Bibtex]
 
Sarah Delgado Rodriguez, Oliver Hein, Ismael Prieto Romero, Lukas Mecke, Felix Dietz, Sarah Prange and Florian Alt. Shake-It-All: A Toolkit for Sensing Tangible Interactions on Everyday Objects. CHI2023 Workshop [WS2] - Beyond Prototyping Boards: Future Paradigms for Electronics Toolkits. [Download Bibtex]
 

2022

Alia Saad, Jens Gruenefeld, Lukas Mecke, Mario Koelle, Florian Alt and Stefan Schneegass. Mask removal isn't always convenient in public! – The Impact of the Covid-19 Pandemic on Device Usage and User Authentication. In Extended Abstracts of the 2022 CHI Conference on Human Factors in Computing Systems. CHI EA '22. Association for Computing Machinery, New York, NY, USA. [Download Bibtex] [Video]
 
Sarah Prange, Sarah Delgado Rodriguez, Lukas Mecke and Florian Alt. "I Saw Your Partner Naked": Exploring Privacy Challenges During Video-Based Online Meetings. In Proceedings of the 21st International Conference on Mobile and Ubiquitous Multimedia. MUM '22. Association for Computing Machinery, New York, NY, USA. [Download Bibtex]
 
Sarah Delgado Rodriguez, Lukas Mecke and Florian Alt. SenseHandle: Investigating Human-Door Interaction Behaviour for Authentication in the Physical World. In Adjunct Proceedings of the Eighteenth Symposium on Usable Privacy and Security. SOUPS '22. USENIX Association, [Download Bibtex]
 

2021

Jonathan Liebers, Uwe Gruenefeld, Lukas Mecke, Alia Saad, Jonas Auda, Florian Alt, Mark Abdelaziz and Stefan Schneegass. Understanding User Identification in Virtual Reality through Behavioral Biometrics and the Effect of Body Normalization. In Proceedings of the 2021 CHI Conference on Human Factors in Computing Systems. CHI'21. Association for Computing Machinery, New York, NY, USA. [Download Bibtex]
 
Sarah Delgado Rodriguez, Sarah Prange, Lukas Mecke and Florian Alt. ActPad – A Smart Desk Platform to Enable User Interaction with IoT Devices. In Extended Abstracts of the 2021 CHI Conference on Human Factors in Computing Systems. CHIEA'21. ACM, New York, NY, USA. [Download Bibtex]
 

2020

Sarah Prange, Lukas Mecke, Alice Nguyen, Mohamed Khamis and Florian Alt. Don't Use Fingerprint, it's Raining! How People Use and Perceive Context-Aware Selection of Mobile Authentication. In Proceedings of the 2020 International Conference on Advanced Visual Interfaces. AVI'20. Association for Computing Machinery, New York, NY, USA. [Download Bibtex]
 
Ken Pfeuffer, Lukas Mecke, Sarah Delgado Rodriguez, Mariam Hassib, Hannah Maier and Florian Alt. Empirical Evaluation of Gaze-Enhanced Menus in Virtual Reality. In 26th ACM Symposium on Virtual Reality Software and Technology. VRST '20. Association for Computing Machinery, New York, NY, USA. [Download Bibtex]
 
Yasmeen Abdrabou, Sarah Prange, Lukas Mecke, Ken Pfeuffer and Florian Alt. VolumePatterns: Using Hardware Buttons beyond Volume Control on Mobile Devices. In Proceedings of the 1st CHI Workshop on Authentication Beyond Desktops and Smartphones. WABDS'20. [Download Bibtex]
 

2019

Lukas Mecke, Daniel Buschek, Mathias Kiermeier, Sarah Prange and Florian Alt. Exploring Intentional Behaviour Modifications for Password Typing on Mobile Touchscreen Devices. In Fifteenth Symposium on Usable Privacy and Security (SOUPS 2019). USENIX Association, Santa Clara, CA. [Download Bibtex] [Video]
 
Lukas Mecke, Sarah Delgado Rodriguez, Daniel Buschek, Sarah Prange and Florian Alt. Communicating Device Confidence Level and Upcoming Re-Authentications in Continuous Authentication Systems on Mobile Devices. In Fifteenth Symposium on Usable Privacy and Security (SOUPS 2019). USENIX Association, Santa Clara, CA. [Download Bibtex] [Video]
 
Ken Pfeuffer, Matthias Geiger, Sarah Prange, Lukas Mecke, Daniel Buschek and Florian Alt. Behavioural Biometrics in VR - Identifying People from Body Motion and Relations in Virtual Reality. In Proceedings of the 2019 CHI Conference on Human Factors in Computing Systems. CHI '19. ACM, New York, NY, USA. [Download Bibtex]
 
Sarah Prange, Daniel Buschek, Ken Pfeuffer, Lukas Mecke, Peter Ehrich, Jens Le and Florian Alt. Go for GOLD: Investigating UserBehaviour in Goal-Oriented Tasks. In Extended Abstracts of the 2019 CHI Conference on Human Factors in Computing Systems. CHI EA'19. ACM, New York, NY, USA. [Download Bibtex]
 
Sarah Prange, Lukas Mecke, Michael Stadler, Maximilian Balluff, Mohamed Khamis and Florian Alt. Securing Personal Items in Public Space - Stories of Attacks and Threats. In Proceedings of the 18th International Conference on Mobile and Ubiquitous Multimedia. MUM'19. ACM, New York, NY, USA. [Download Bibtex]
 
Sarah Prange, Yasmeen Abdrabou, Lukas Mecke and Florian Alt. Hidden in Plain Sight:Using Lockscreen Content forAuthentication on Mobile Devices. In Proceedings of the Fifteenth Symposium on Usable Privacy and Security. SOUPS 2019. USENIX Association, Santa Clara, CA. [Download Bibtex]
 

2018

Lukas Mecke, Sarah Prange, Daniel Buschek, Mohamed Khamis, Mariam Hassib and Florian Alt. Outsourcing Security: Supporting People to Support Older Adults. In Proceedings of the Mobile HCI '18 Workshop on Mobile Privacy and Security for an Aging Population. [Download Bibtex]
 
Ville Mäkelä, Mohamed Khamis, Lukas Mecke, Jobin James, Markku Turunen and Florian Alt. Pocket Transfers: Interaction Techniques for Transferring Content from Situated Displays to Mobile Devices. In Proceedings of the 2018 CHI Conference on Human Factors in Computing Systems. CHI '18. ACM, New York, NY, USA. [Download Bibtex]
 
Lukas Mecke, Sarah Prange, Daniel Buschek and Florian Alt. A Design Space for Security Indicators for Behavioural Biometrics on Mobile Touchscreen Devices. In Extended Abstracts of the 2018 CHI Conference on Human Factors in Computing Systems. CHI EA '18. ACM, New York, NY, USA. [Download Bibtex]
 
Lukas Mecke, Ken Pfeuffer, Sarah Prange and Florian Alt. Open Sesame!: User Perception of Physical, Biometric, and Behavioural Authentication Concepts to Open Doors. In Proceedings of the 17th International Conference on Mobile and Ubiquitous Multimedia. MUM'18. ACM, New York, NY, USA. [Download Bibtex]
 
Daniel Buschek, Sarah Völkel, Clemens Stachl, Lukas Mecke, Sarah Prange and Ken Pfeuffer. Experience Sampling As Information Transmission: Perspective and Implications. In Proceedings of the 2018 ACM International Joint Conference and 2018 International Symposium on Pervasive and Ubiquitous Computing and Wearable Computers. UbiComp '18. ACM, New York, NY, USA. [Download Bibtex]
 

2016

Florian Alt, Andreas Bulling, Lukas Mecke and Daniel Buschek. Attention, Please!: Comparing Features for Measuring Audience Attention Towards Pervasive Displays. In Proceedings of the 2016 ACM Conference on Designing Interactive Systems. DIS '16. ACM, New York, NY, USA. [Download Bibtex]