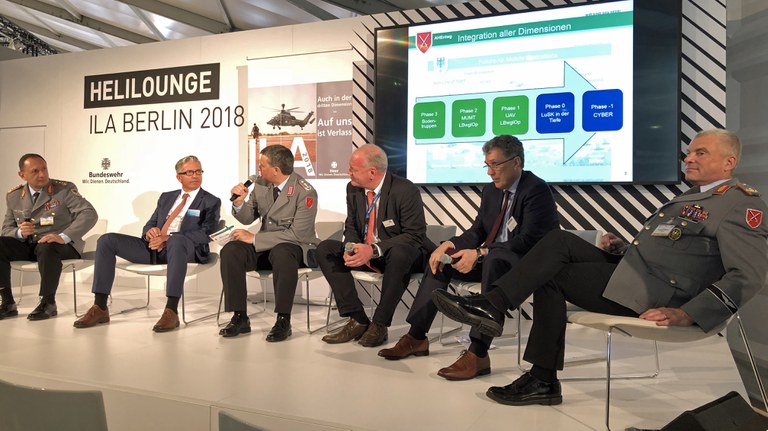 MUM-T is the theme of the top-class Berlin Air Show Heli-Panel
26 April 2018
MUM-T (Manned-unmanned Teaming) is gaining tremendous speed!
Not only in the field of combat aircraft (see German-French agreement on FCAS "Future Combat Air System"), but also for military helicopters, the topic is at the top of the agenda. For this reason, the German Army Development Agency is organizing a panel on the topic "Digitization and Interoperability of Helicopter Forces in Land and Air Operations, including Manned-unmanned Teaming" in the HeliLounge of the 2018 Berlin Air Show. Prof. Dr. Axel Schulte, who has been working on the topic with his research group for more than 12 years, will take part in the panel discussion as a representative of science. His brief report on the Institute's work in the CASIMUS and MiRA-CA projects is met with great interest by the generals and industry representatives.
The ILA stands for innovation and networking. With this in mind, the first concrete starting points for a trend-setting cooperation between Prof. Schulte and Airbus Helicopters could already be worked out directly after the panel.
How important the topic is for the Bundeswehr is shown by the high level of discussion, from left to right: Lieutenant-General Frank Leidenberger (Commander of the German Multinational Corps and Basic Military Organisation, Command Army), Mr Mark Henning (Program Manager H145, Airbus Helicopters Germany), Colonel Klaus Schiefenbusch (Head of Department, Office for Army Development), Prof. Axel Schulte (Bundeswehr University Munich), Mr Martin Konertz (Director Capability, Armament & Technology, European Defence Agency), Major-General Reinhard Wolski (Head of Office, Office for Army Development).