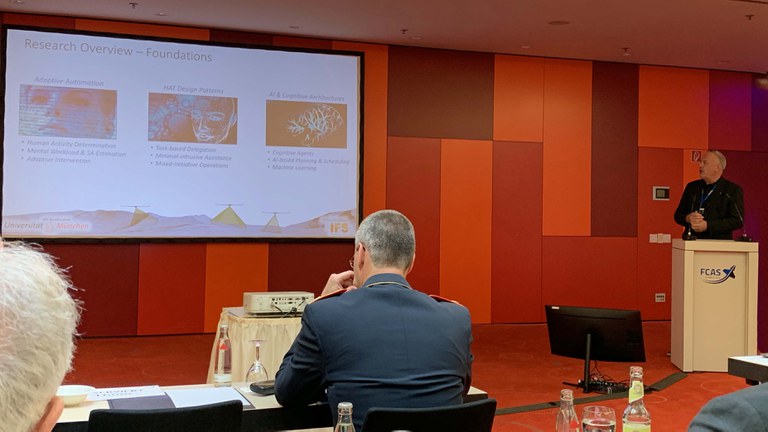 Prof. Schulte sets standards at National FCAS Summit
26 September 2019
For the first time this year, the "National FCAS Summit" will take place in Berlin. Prof. Axel Schulte from the University of the Bundeswehr Munich (UBM) is one of the headliners in the program. Prof. Schulte presents our consolidated concept and the implemented solution approach for intelligent cockpit and UAV automation in Manned-Unmanned Teaming (MUM-T) missions to about 100 top-class participants from the military, authorities, industry and science. The enthusiastic reaction of the audience and the intensive discussions show that the UBM sets standards in this field and can make significant contributions to the specification of the MUM-T capability of the FCAS. No wonder, after all, this is the result of more than 12 years of focused research with a team of continuously up to 14 scientists and numerous doctoral theses.
FCAS stands for "Future Combat Air System" and describes the future European air combat system. FCAS is a Franco-German-Spanish program for the development of a system consisting of a manned sixth generation multi-purpose combat aircraft (New Generation Fighter), unmanned escort aircraft (Remote Carrier) and new weapons and communication systems (Wikipedia).
The professorship for Aircraft Dynamics and Flight Guidance under the direction of Prof. Axel Schulte is involved in national research and technology studies funded by the German Armed Forces or on behalf of industry.
The photo shows Prof. Schulte during his lecture in Berlin.