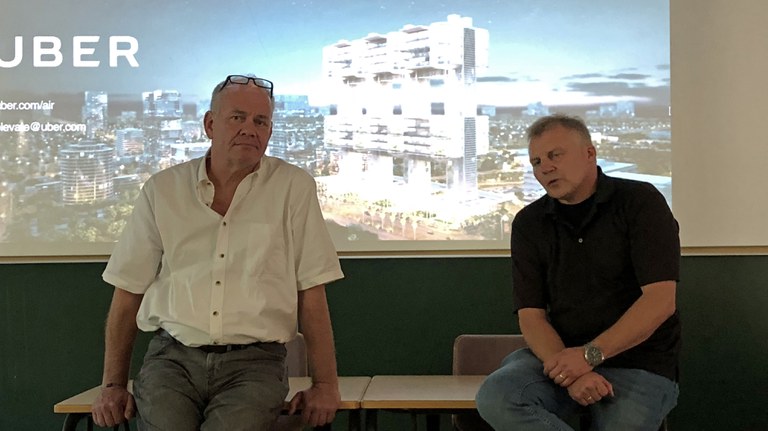 Tom Prévôt inspires with Uber air taxi visions
12 September 2018
Dr. Tom Prévôt, Director of Engineering, Airspace Systems at Uber, inspires the Institute of Flight Systems with the Californian company's visions of future individual transport with air taxis. He demonstrates how the Silicon Valley gurus approach things – "think big" is the motto here. In 2023, Uber plans to launch flying taxis in Los Angeles and other major cities. Challenges that arise until then are mastered by passing by. Some can cut themselves off from this attitude.
Thomas Prévôt studied aerospace engineering at the Bundeswehr University Munich from 1986-1990 and received his doctorate in 1995 from the Chair of Aircraft Dynamics and Flight Guidance (then Prof. Reiner Onken). Prof. Schulte and Dr. Prévôt know each other from this phase and have been friends since then. Dr. Prévôt then spent 21 years as a researcher at the NASA Ames Research Center before moving to Uber Elevate in 2017.
The photo shows Dr. Prévôt (right) and Prof. Schulte (left) intensively discussing the ideas and concepts presented with the staff of the Institute of Flight Systems. Prof. Onken, the doctoral supervisor of the two, who was also present, was very impressed by what his graduates had made of themselves.