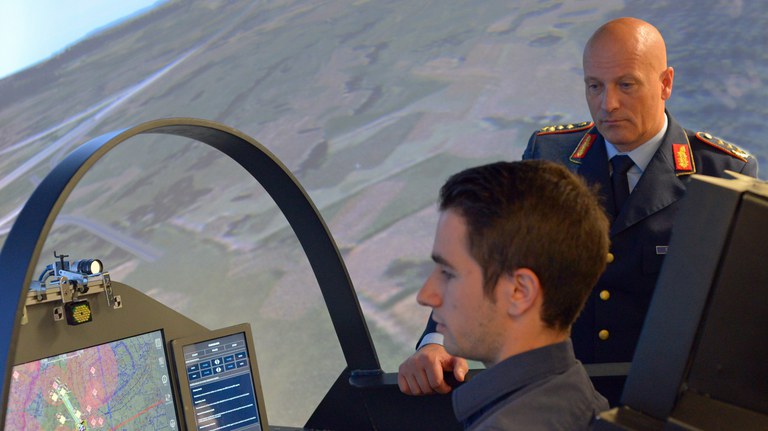 Air Force Chief of Staff Impressed by Research at the Institute
22 November 2018
This is quite impressive when the highest officer of the German Air Force, Lieutenant General Ingo Gerhartz (Chief of Staff GAF), visits our laboratory on the doorstep of decisive decisions for the planned new European combat aircraft FCAS (Future Combat Air System). FCAS is to be developed as the successor to the Eurofighter as part of a Franco-German cooperation and the activities of the professorship for Aircraft Dynamics and Flight Guidance for Manned-unmanned Teaming and Cockpit Design will hit the nail on the head.
Today we can see that visionary foresight and dedication have paid off, with which Prof. Axel Schulte and his competent team have been working for almost 15 years to answer the question of how unmanned combat aircraft, teams and swarms can be guided out of the cockpit of a fighter jet. This Manned-unmanned Teaming (MUM-T) can gain decisive operational advantages, the technology contributes to the protection of the soldiers and the responsible person, e.g. for the use of weapons, can be held in the decision loop.
General Gerhartz is clearly impressed and appeals to contribute our competences to the strengthening of the national position in FCAS. Addressing the employees, he emphatically motivates them "how great it is to be present at the birth of such an enormous development programme, and even ahead the wave!"
I think we did the right thing!
The photo shows General Gerhartz "supporting" Marius Dudek in carrying out a MUM-T mission in the cockpit simulator. It's great to see how the master students and the air force commander work together in a relaxed manner and free from fear of contact.