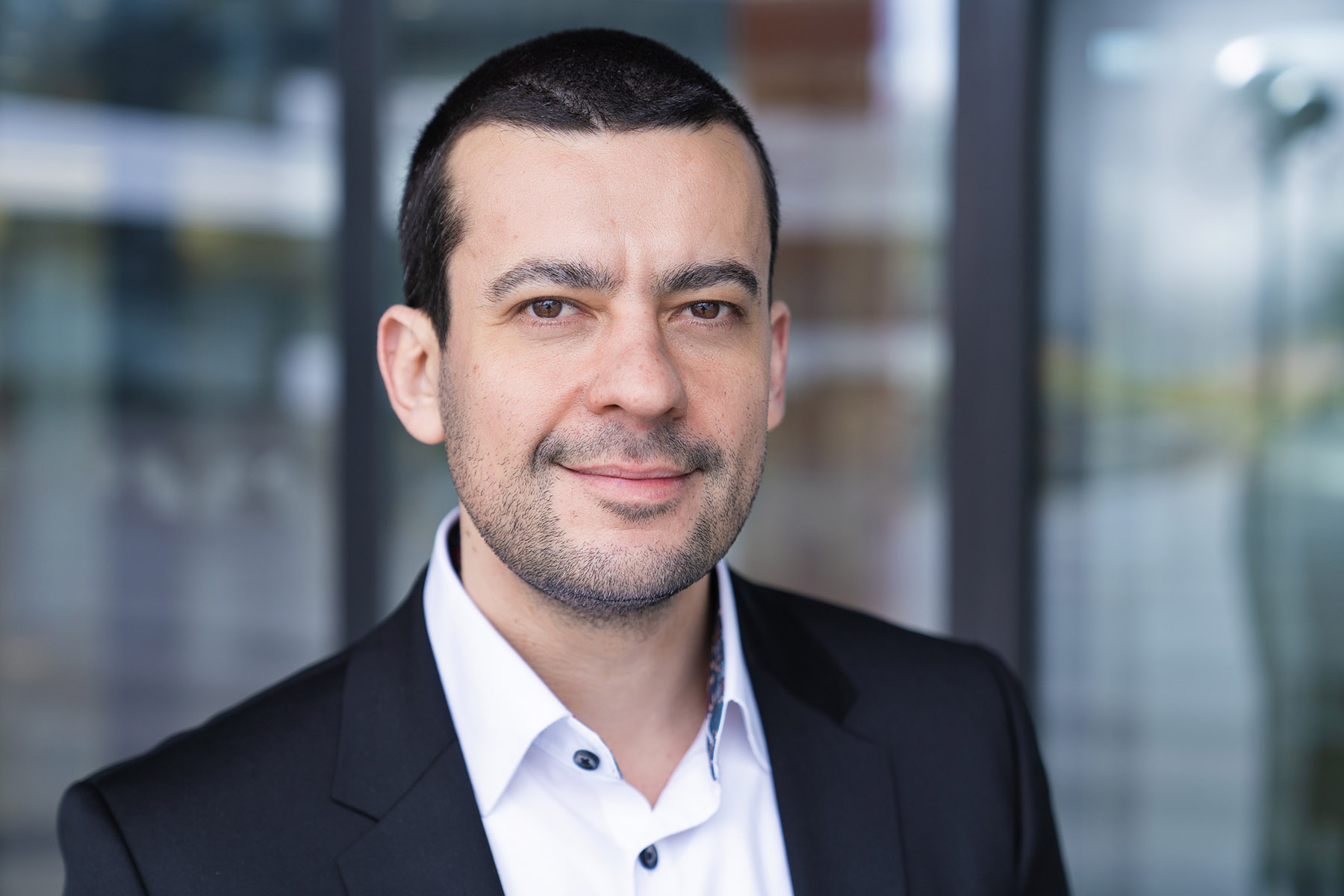 FROM SURREY TO MUNICH: WELCOME, PROF. MANULIS!
As of March 1, 2022, Prof. Dr. Mark Manulis has accepted the call to the W3 professorship for Privacy at the Department of Computer Science at UniBw M. In this interview, he talks about his research interests and the future vision for the Privacy and Applied Cryptography (PACY) Lab that he wil be establishing at the RI CODE.


Prof. Manulis, what is your research basically about?
I use cryptographic methods and develop technologies to protect privacy in the digital environment. I conduct research on fundamentals, such as modeling and security analysis of cryptographic protocols, as well as predominantly on their use in applications – with the goal of developing new methods and implementing them in a practical way.
The focus of my research so far has been primarily on privacy protection in data processing, authentication methods, and secure communication applications, as well as on decentralized multi-user applications in the context of social media, IoT, and blockchain.
Why did you decide to join the RI CODE and the Universität der Bundeswehr München (UniBw M)?
The RI CODE is currently being expanded into one of the largest interdisciplinary research centers in the field of cybersecurity, with a new building that will also bring together all the research groups and laboratories. I have always appreciated the diversity and dynamics of large research centers. I think this is a good time to join the RI CODE and actively help in shaping its future development. I am convinced that an optimal environment for significant, rigorous, and practice-relevant research supported by strong collaborations with diverse partners is being created here.
I think it is good that cybersecurity is seen as a main strategic goal at the UniBw M and that the University is actively investing and promoting its development in research and teaching. The Master's program in Cybersecurity already offers a wide variety of relevant courses, which I can effectively complement with my modules. The infrastructure and IT equipment of the laboratories are also top-notch.
Due to its special status, the University performs an important task in strengthening cybersecurity competence across the Bundeswehr and other federal agencies. In current times of geopolitical security challenges, it is important to support this mission.
Where did you do your research before, and how did you get involved in the field of cybersecurity?
I became interested in cybersecurity during my undergraduate studies of computer science at the TU Braunschweig. My Master's thesis dealt with cryptographic key management for secure group communication. I continued to expand on this topic during my doctoral studies at the Horst-Görtz Institute for IT Security at the Ruhr-Universität Bochum.
This was followed by a short postdoc position in the research group for cryptography at the Université catholique de Louvain in Belgium. In 2009, I moved back to Germany, as a Juniorprofessor at TU Darmstadt. There, I also helped to co-develop research centres that preceeded the current National Research Center for Applied Cybersecurity (ATHENE).
In 2012, I moved to the UK as a Senior Lecturer in the Department of Computer Science at the University of Surrey. Two years later, I became a co-founder and Deputy Director of its newly established Surrey Centre for Cyber Security (SCCS) and helped driving its strategic development. My promotion to the Reader in Security came in 2020, as well as the appointment to the Head of Department of Computer Science, the role which I held until joining UniBw M.  
What is your vision for setting up your new research group PACY?
My main goal with the PACY lab is to work on current, practical research topics in the field of privacy-protecting technologies using modern cryptographic methods and techniques.
Initially, we will continue participating in ongoing research projects, such as the large-scale international EU H2020 project "SECANT", which focuses on attribute-based encryption technique to protect private patient data. The ongoing research work on privacy-protecting authentication methods around the new WebAuthn standard will also continue.
I see many opportunities for joint research projects with federal agencies, academic research institutions, and commercial partners, including numerous start-ups from the Munich area.
The plan is to establish a laboratory where hands-on teaching and and supervision of student-led research projects will take place and where research prototypes will be developed and demonstrated.
Currently, I am looking for multiple PhD students or postdocs who want to join me on this exciting journey at the PACY Lab.
What are you looking forward to the most?
What I'm mostly excited about is that things are now moving forward and I've finally started my position at RI CODE –  there were delays due to the pandemic and recent federal elections. I also think that moving to Munich is very attractive: the city is one of the best in Germany.
---
 Prof. Dr. Mark Manulis holds the full professorship of Privacy at RI CODE since March 1, 2022. His research focuses on digital technologies for privacy protection based on modern cryptographic methods.
---
Image: © UniBw M/Siebold